The Gadgeteer is supported by readers like you! If you buy something through links on our site, we may earn an affiliate commission. Thank you! Learn more.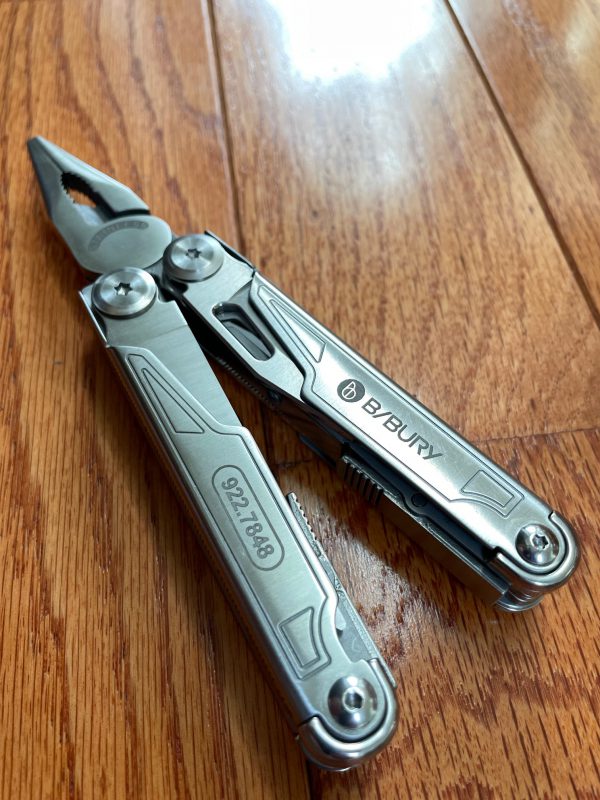 MEET AGAIN – When I started engineering school in 1984, the requirement was to bring pliers, screwdrivers and a knife to each lab. I saved up and saved up to buy my first multitool, a Leatherman PST, to lighten my load and have had one in my pocket every day since. Now Bibury's new 19-in-one multitool wrote EDC "every day" everywhere …
What is that?
The Bibury Pliers 19-in-1 Multi-tool is a foldable stainless steel multi-tool that contains 19 useful tools that lock into place during use.
Material specification:
4 inches inches in length (10 cm)
Extended length 6.7 inches (17 cm)
Width 1.6 inches (4 cm)
420J2 stainless steel construction
9.95Oz (265gr)
Locking tools
What's in the box?
19 in 1 multi-tool
Nylon sheath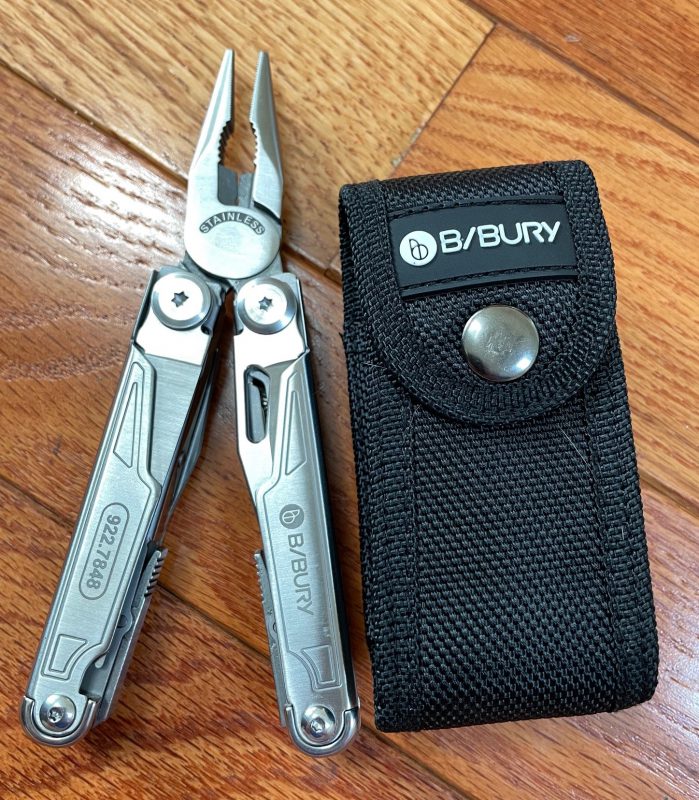 Design and Features:
The multi-tool arrived in a cardboard box with minimal packaging. Its sturdy construction doesn't need much to protect it from bumps and bruises. In fact, it's more or less designed to handle abuse.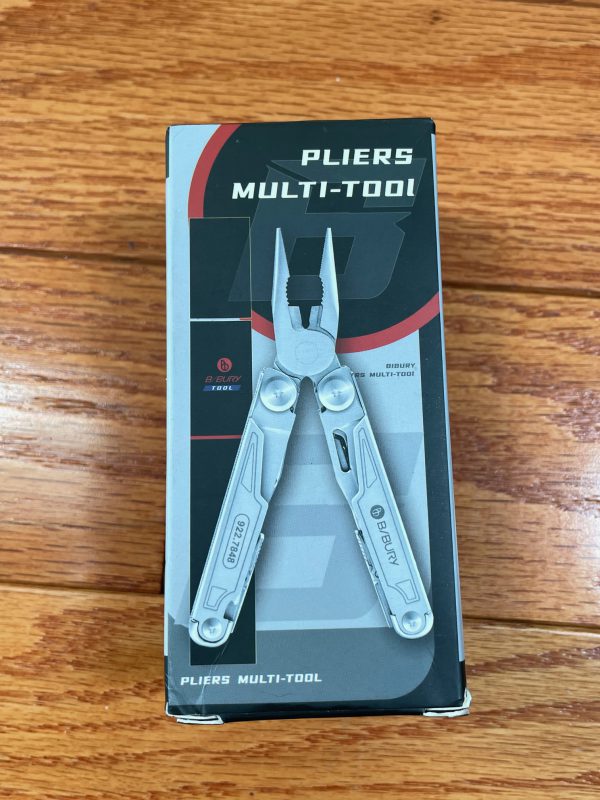 The tools included in the multi-tool are:
Needle nose pliers
"Ordinary" pliers
Cutting pliers
Heavy gauge wire cutters
Stripping blade
Can opener
Mini "glasses style" screwdriver
Large flat screwdriver
The scissors
Rope cut serrated knife blade
Wood saw
3 inch knife blade
Metallic and diamond files
¼ inch bit socket with Phillips screwdriver bit and slotted on both sides
8 inch / 20 cm ruler
Crimping pliers
The tool is solid in my hand, neither too big nor too small.
The construction is solid. I noticed the tool handles are a bit misaligned when closed, but this doesn't seem to affect usage or performance.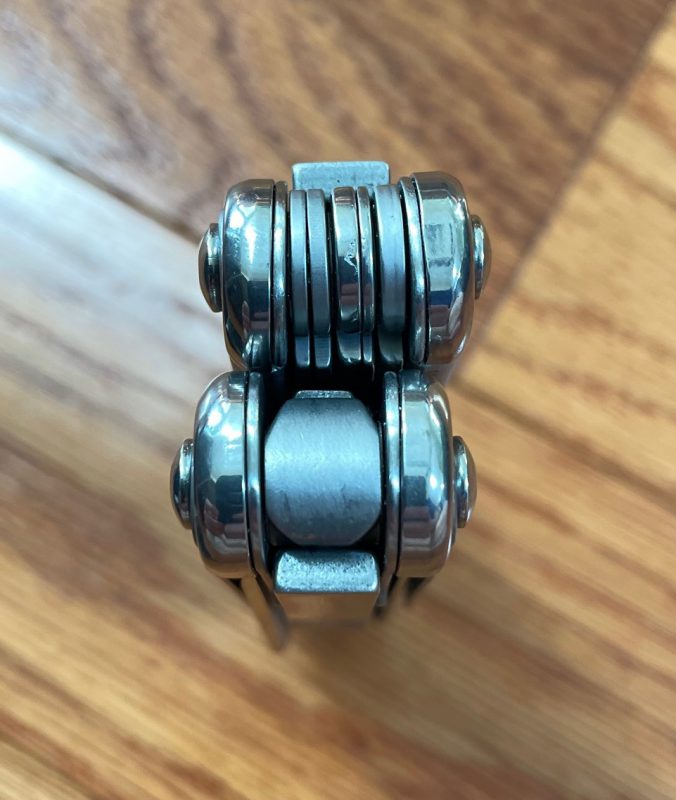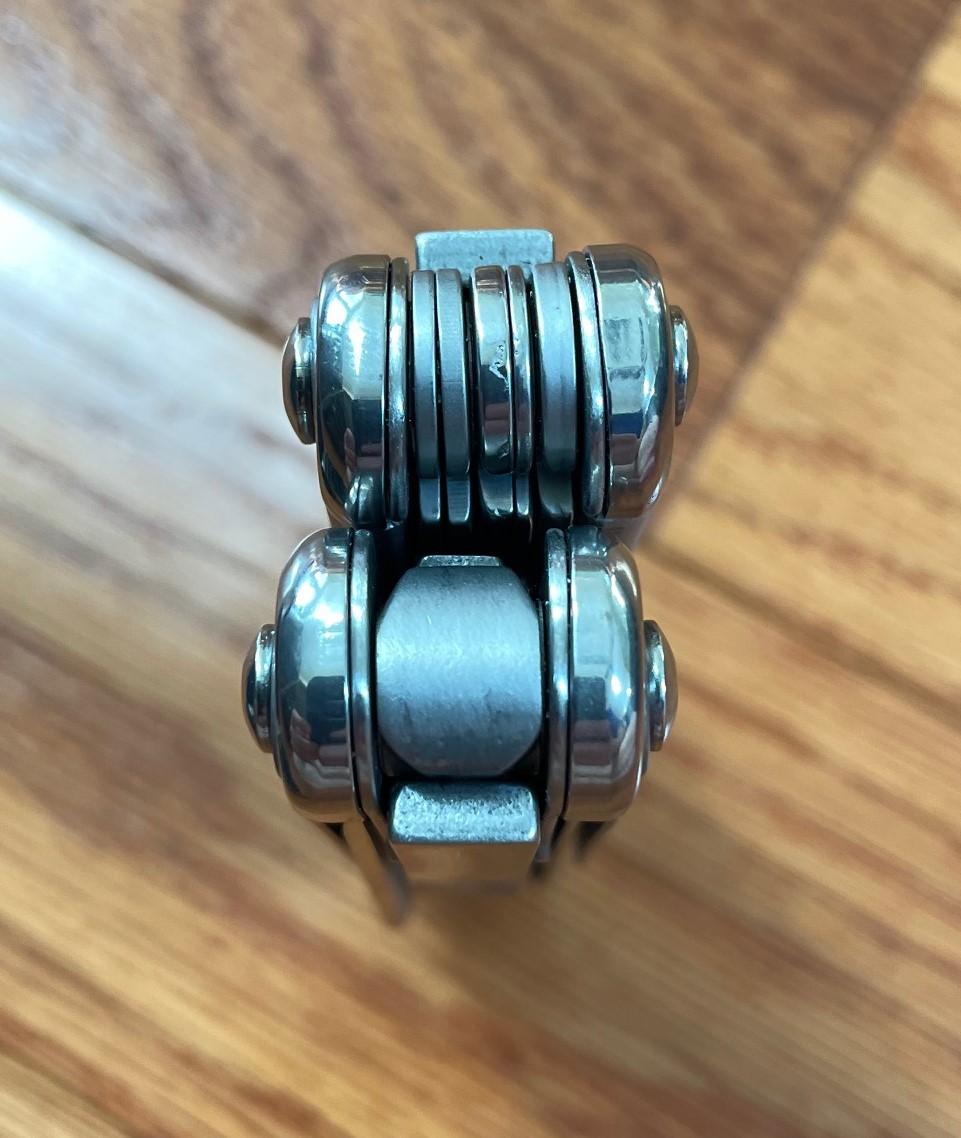 The layout of the tools is very similar to the Leatherman Wave or Charge multi-tools.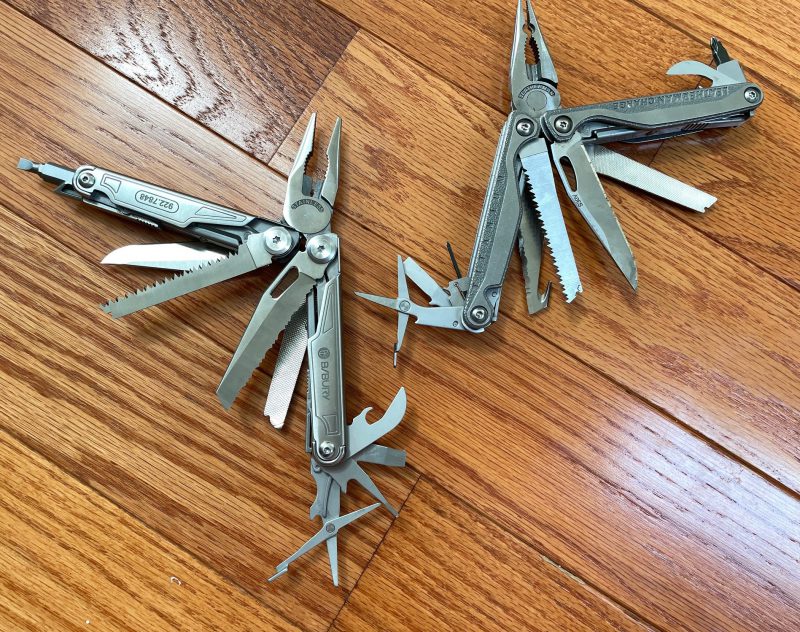 Each tool is locked in place using a liner-lock for external tools …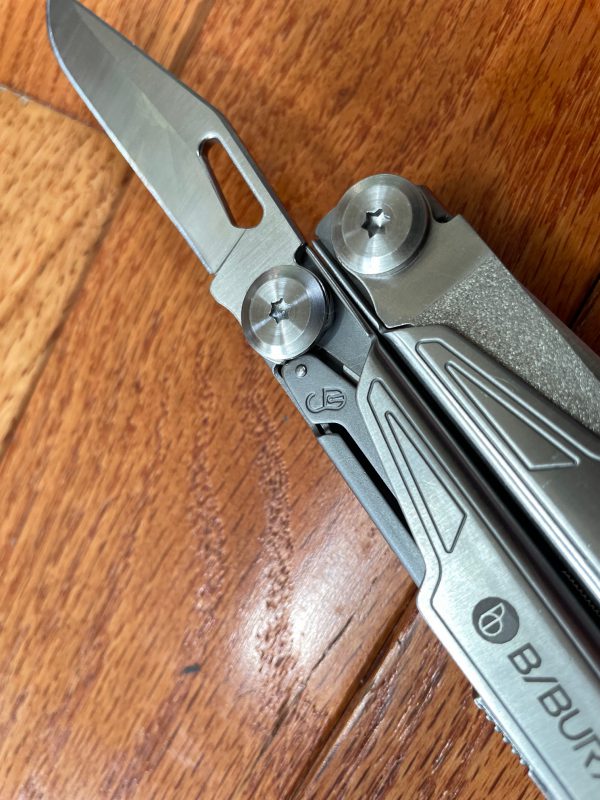 Or rear lock for internal tools.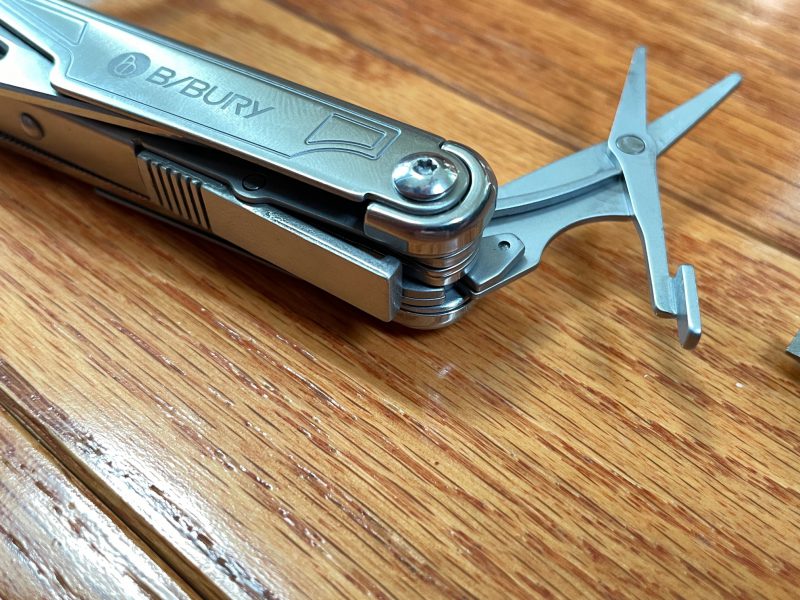 Serrated and drop point knives, files and wood saw open with closed tool handles. All lock into place with a spring mechanism built into the liner. I have noticed that the tools have to be fully open to make sure the liner locks fully engage. When fully locked, there is no play or slope on the blades. To unlock the tools and fold them back into the tool handle, the liner lock must be depressed before the tool can be closed.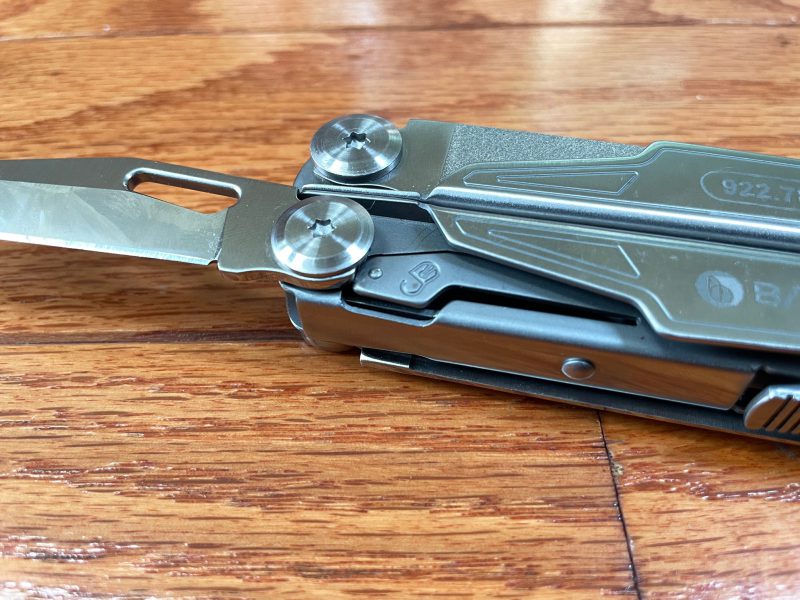 Both blades of the knife can be opened with one hand, thanks to the thumbholes.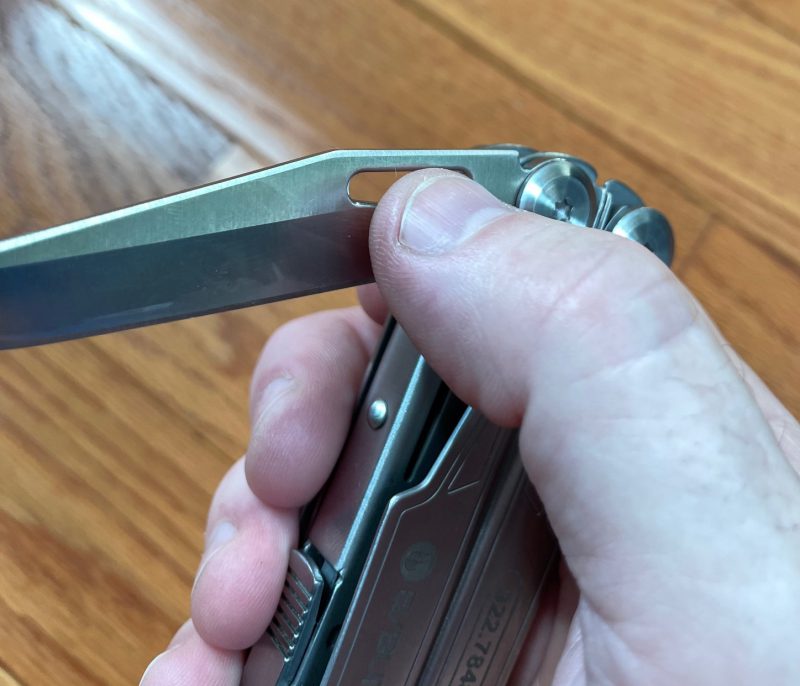 I had a bit of trouble angling the notch in the saw nail and filing it down far enough to deploy the tool due to a combination of my short fingernails and the depth of the tools at rest.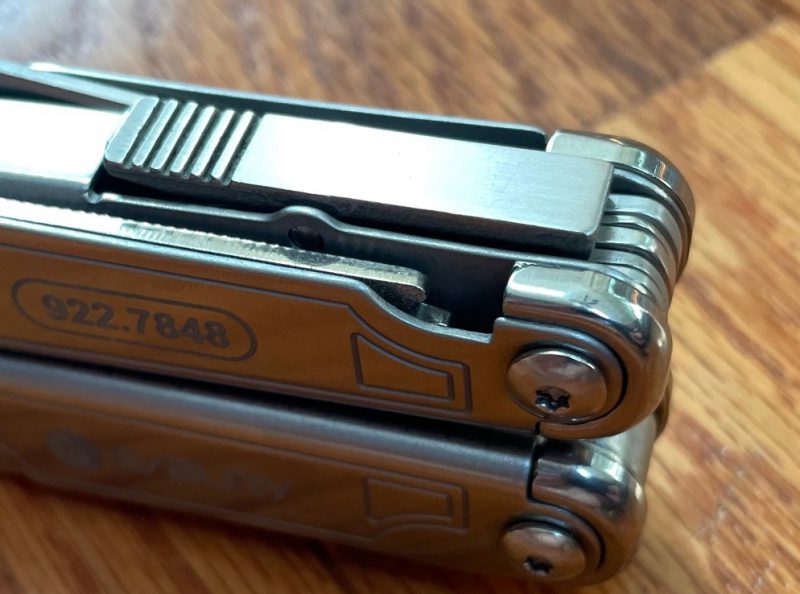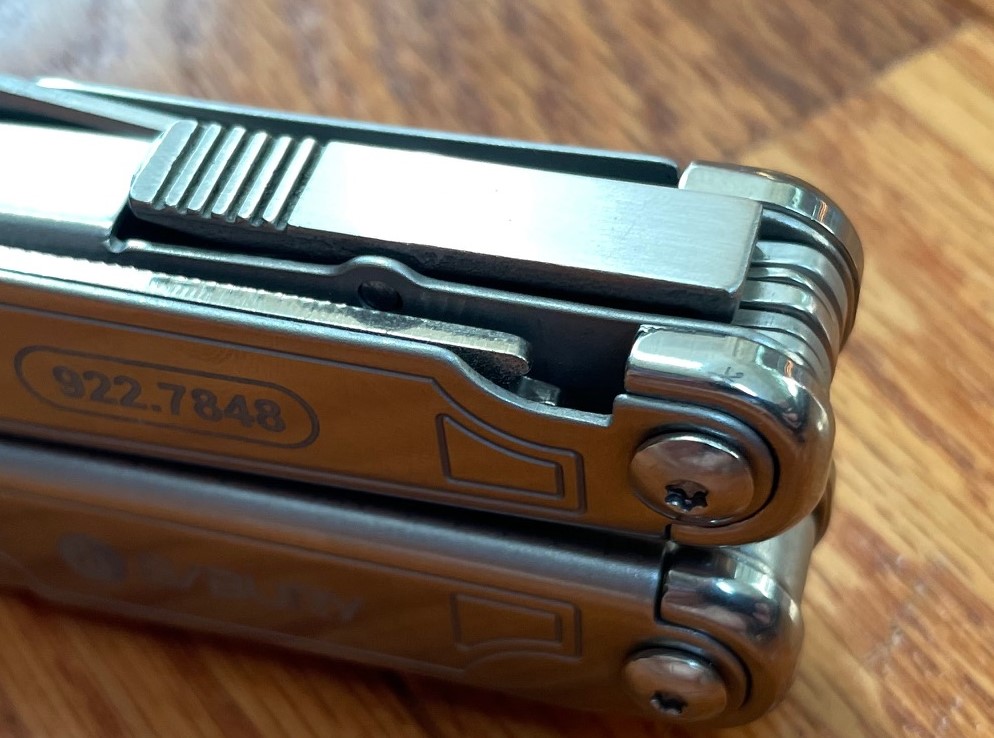 The internal tools each have a nail notch that must be engaged to unfold. When the tool was new I found it a bit difficult to remove the tools. Partly because of the tightness of the tool, partly because I keep my nails cut very short. In the blink of an eye, the 1/4 inch bit can be opened, the bit extracted, and the tip of the bit used to remove tools. Once the tool was used a little, I no longer needed to use this technique.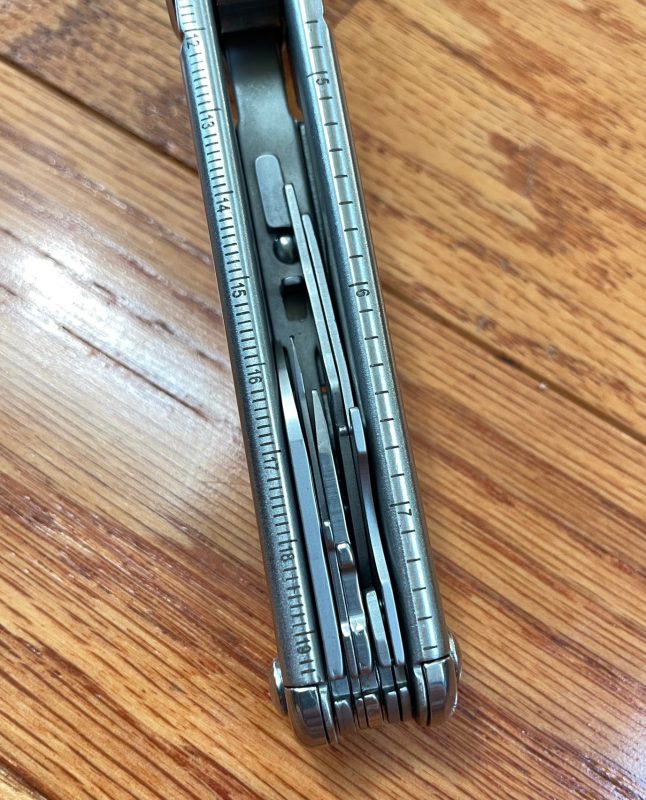 On one side, the 1/4 inch bit finds its place.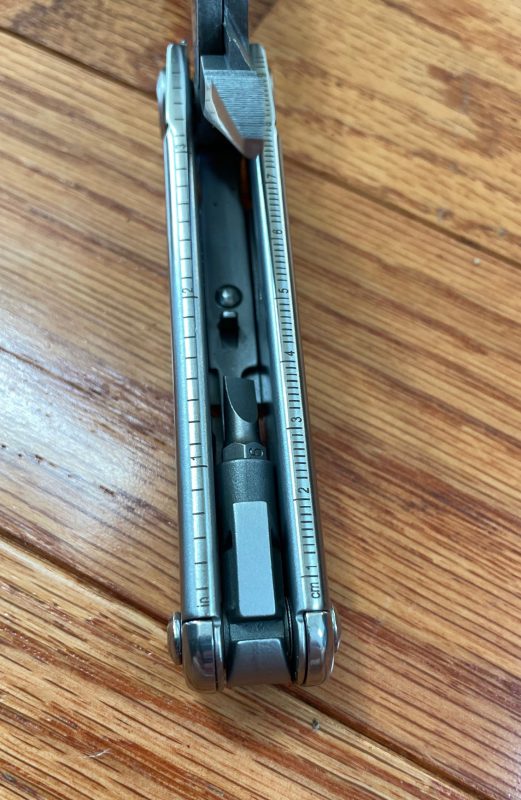 On the other side, scissors, two flat-blade screwdrivers, and the can opener is hiding.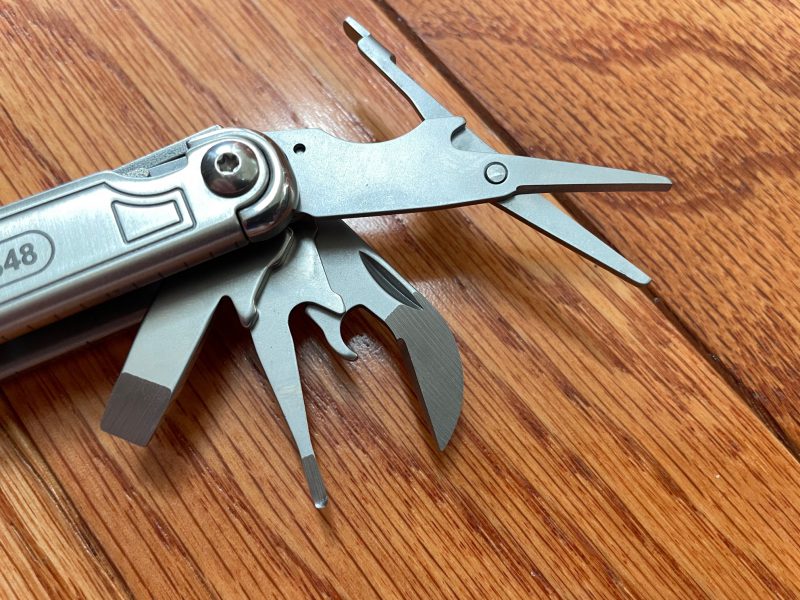 Internal tools lock in place with a rear locking mechanism. There is a slight "slack" when the tools are locked, but I did not notice any issues with the performance of the tools.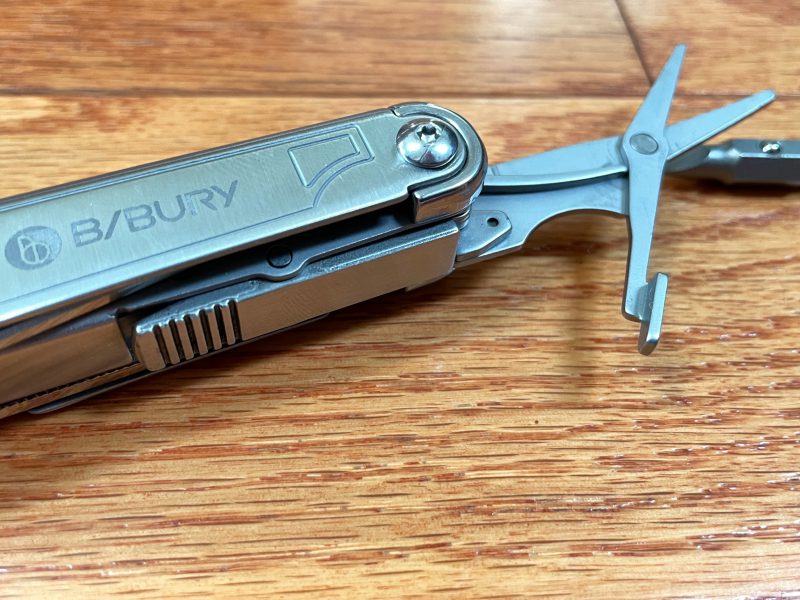 Speaking of tool performance …
Knife blades are sharp right out of the box. I spent time abusing them by cutting various things and found that they still had an advantage. The drop point blade easily cuts paper, cardboard and metal sheath.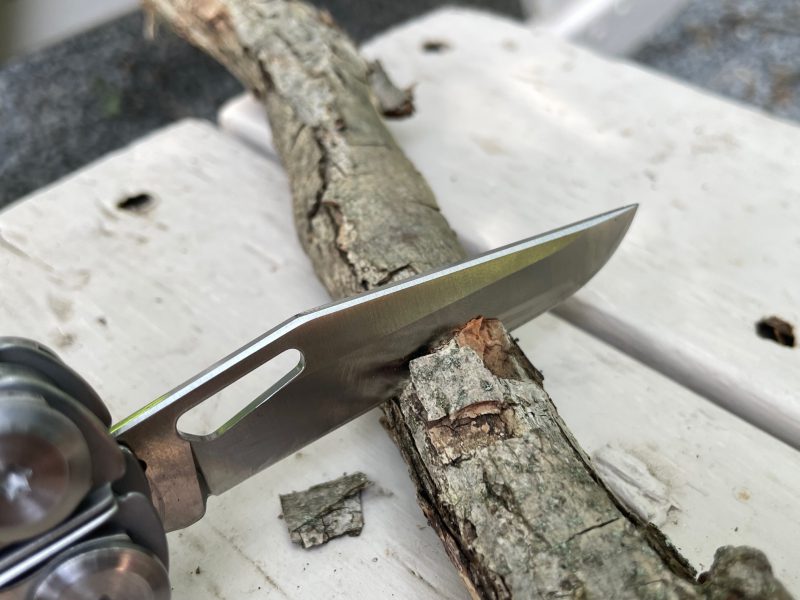 The serrated blade required a back-and-forth sawing action to cut most reasonable materials like nylon cord and wood, but did a decent job.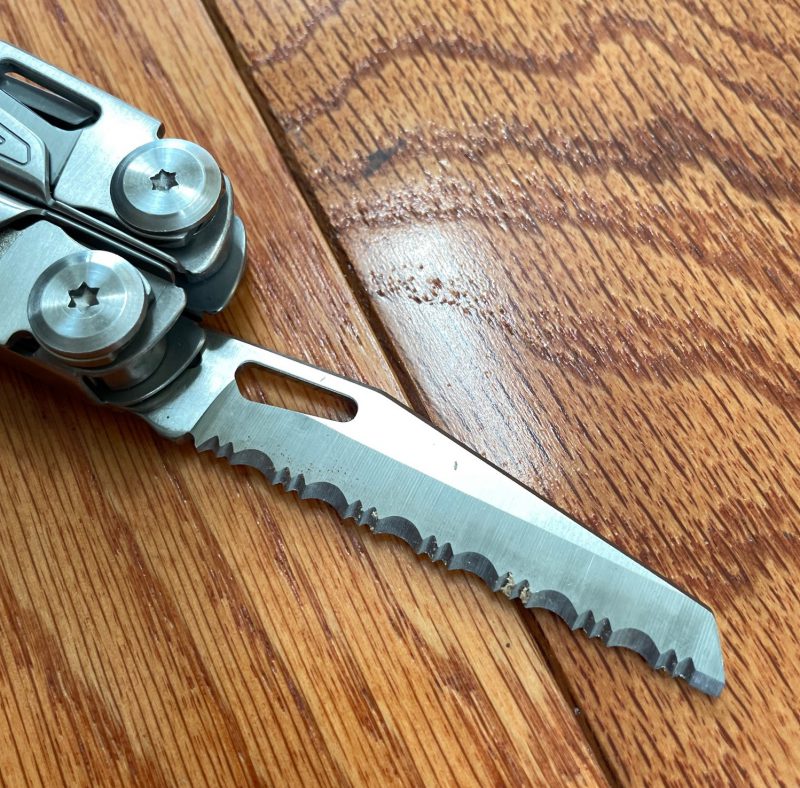 The file worked great on plastic and soft metal.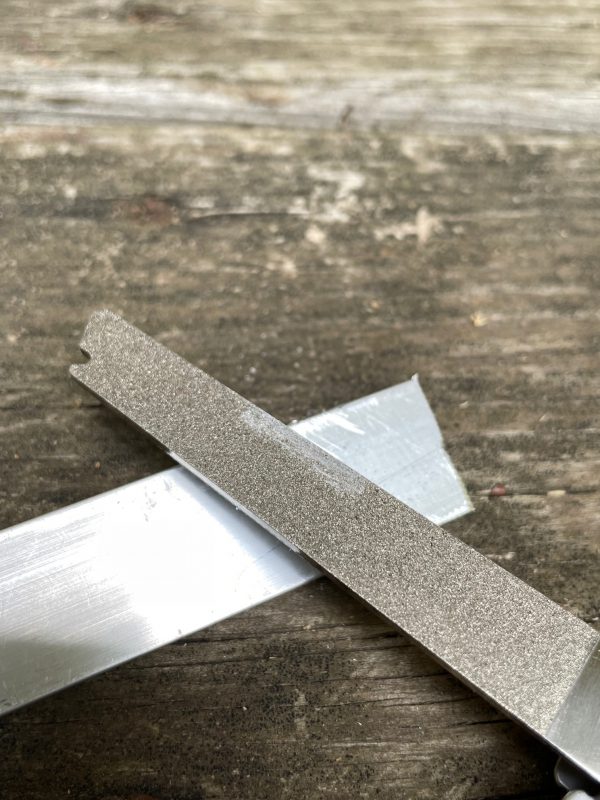 The diamond side has done wonders on my nails and put a sharp edge on a utility knife that I keep in my garage.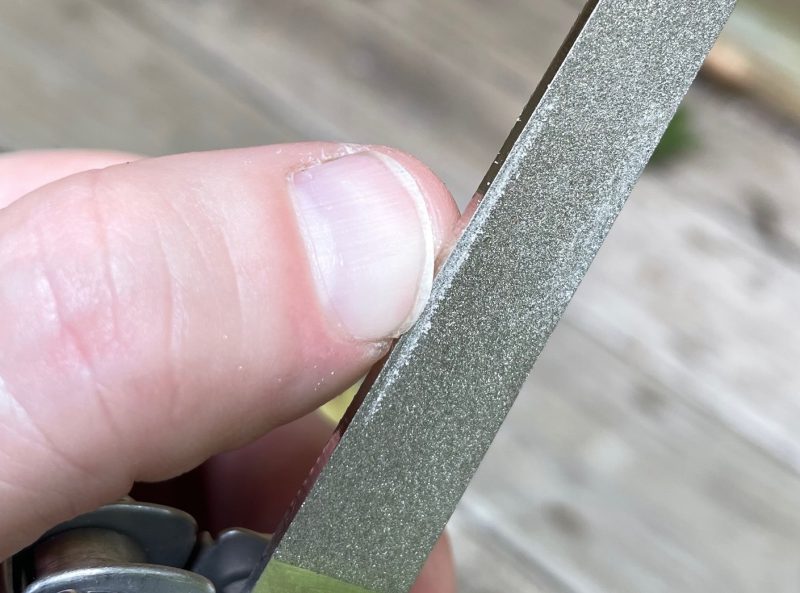 The wood saw is top notch and performed better than my full size wood saws.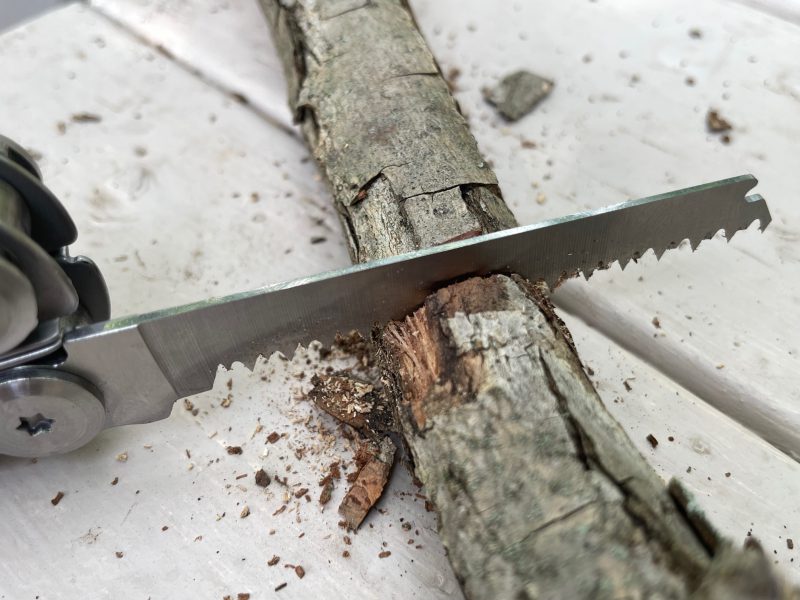 Moving on to the internal tools, the scissors are small but sharp. I had no problem cutting the paper, hair, and lightweight wire insulation.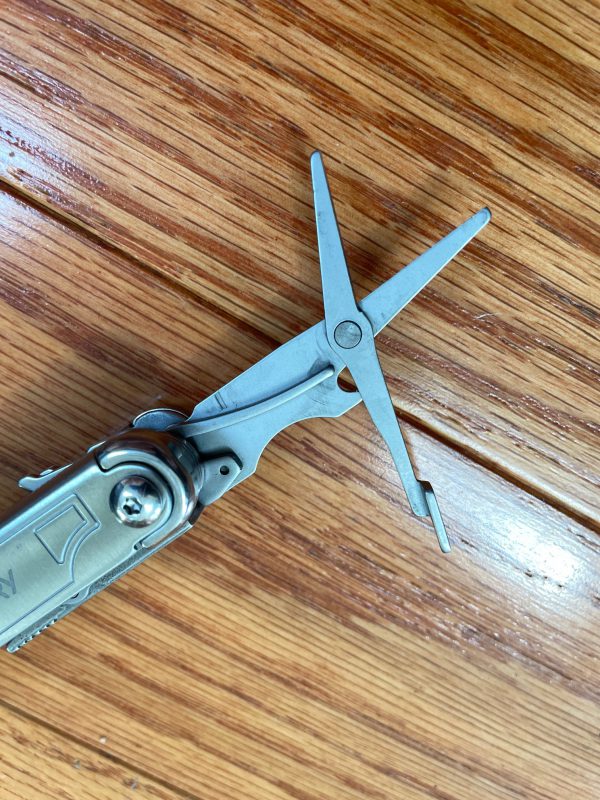 The can opener also worked well, making a quick job of a can of tuna. It can also be used as a bottle opener, although I didn't have any bottles to test it. The wire stripper just below the can opener is a sharp crescent that can easily slice through small gauge wire insulation. I was able to push the wire insulation into the groove, twist the wire, and then use the pliers to remove the plastic. When I tried stranded wire it cut the inner strands a bit so that it wouldn't replace a dedicated wire stripper, but it will work in a pinch, especially on a solid lead wire.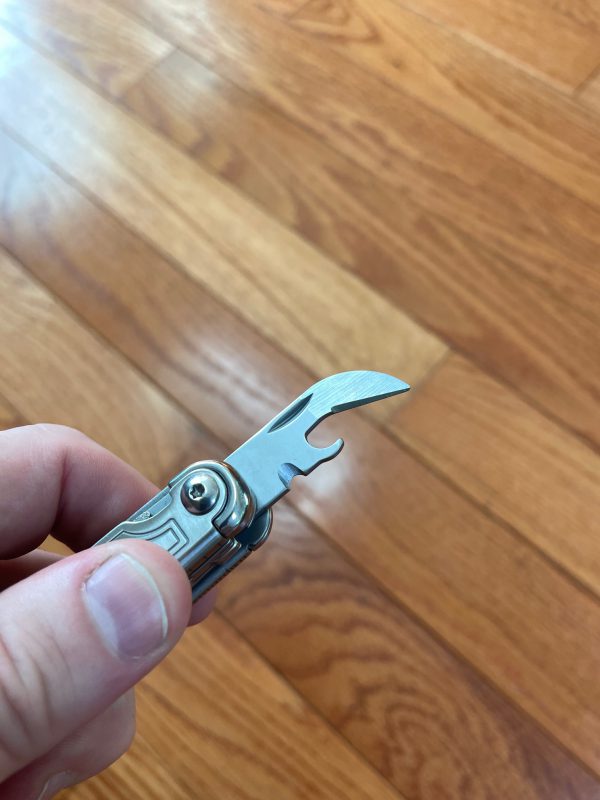 The flat screwdrivers are ground on both sides and the screws are tight. I was able to tighten my glasses with the smaller piece, but noticed that there was a dent in the working edge after use. In all fairness the tip of the blade is quite delicate so it is consistent with other tools I have used.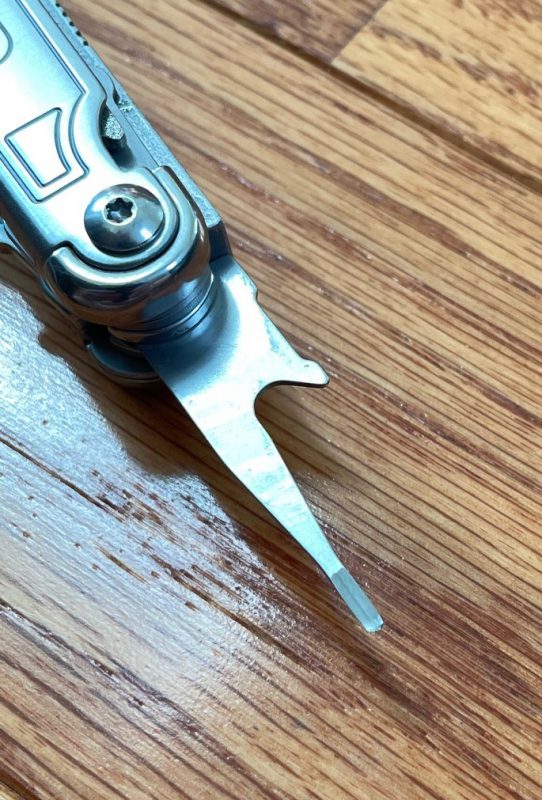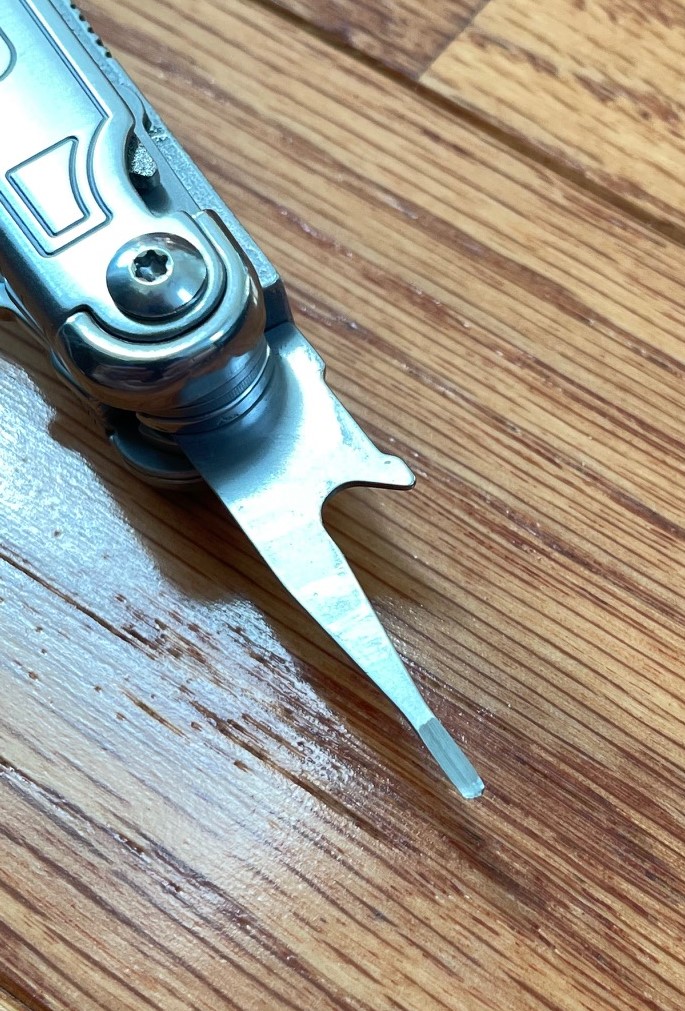 The larger screwdriver was used to tighten a few doorknob screws and lift a loose nail with no problem.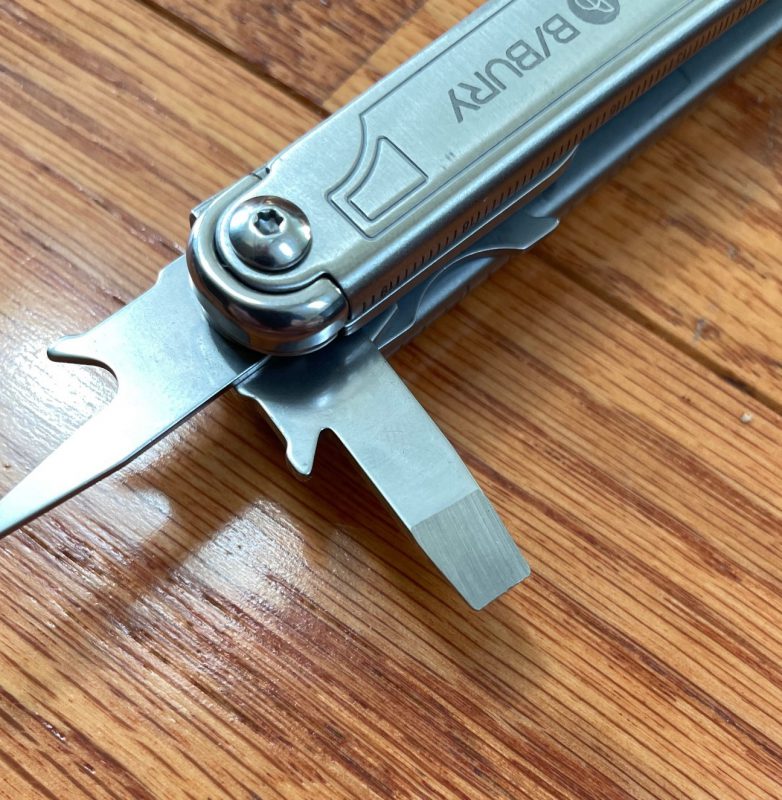 Perhaps the most innovative feature is the ¼ inch driver which accepts any standard size bit. I used the included double ended drill bit to drive a few screws and even drill a small diameter hole in a plastic part using the Bibury multitool as a handle. Beautiful. I'm a little concerned about the longevity of the bit if used for substantially heavy tasks as the sidewalls are somewhat thin, a bit, so far so good.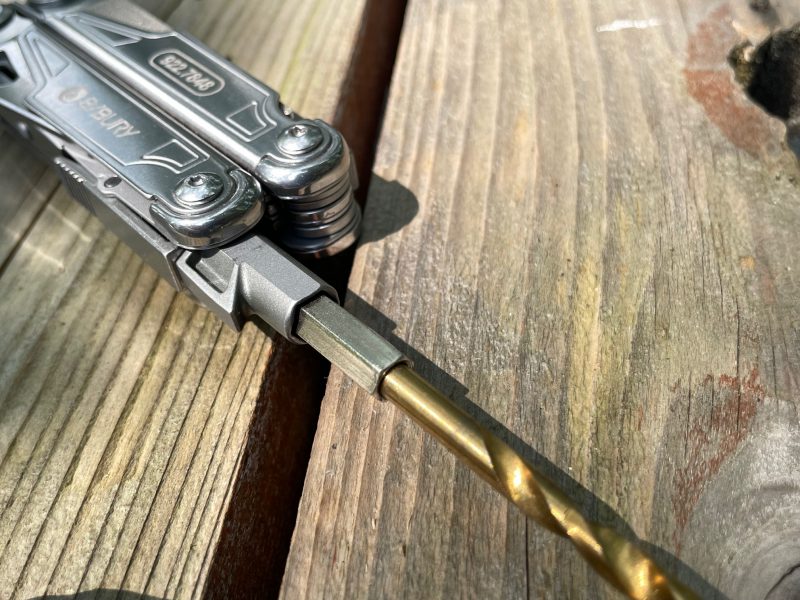 Another bit-driver problem is the lack of a retention mechanism. The included bit has a spring loaded ball located in the middle of the shaft which increases friction to prevent the bit from falling off the tool. With bits that do not have its characteristic, gravity or any external grip on the bit will dislodge it from the conductor. It would have been desirable to include a spring or magnetic retention to alleviate the inevitable frustration of letting my only T20 Torx bit sink into my car's body panels.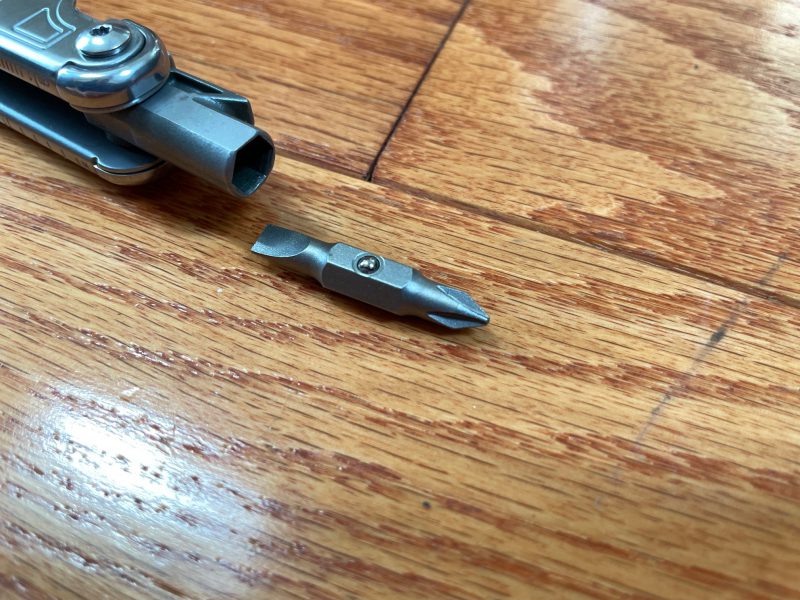 Needle-nose pliers and "regular" pliers worked very well. I used them to grab the nuts while using a socket wrench on the accompanying bolt without slipping. The tips of the pliers were also nimble enough to snag and remove a shard that I managed to pick up during testing.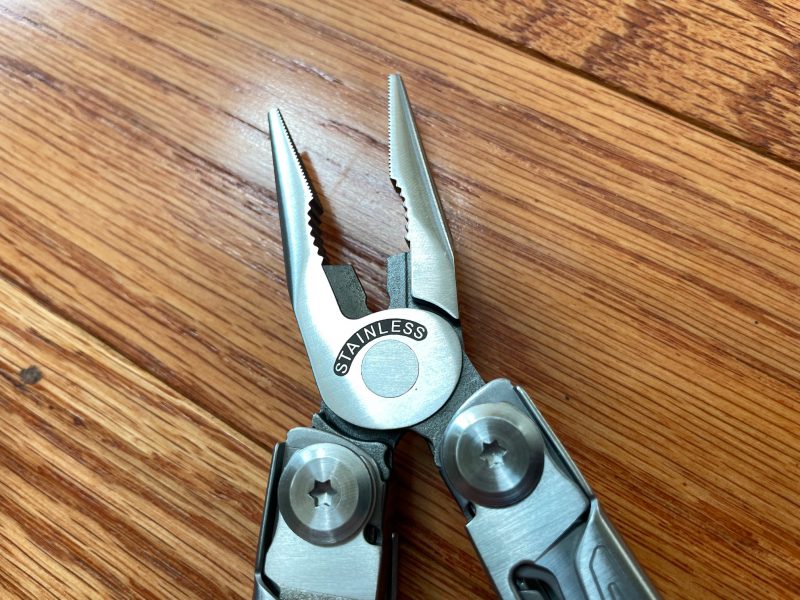 Cutters had no problem cutting a wire hanger, 12 gauge wire, and small zinc bolt without damaging it.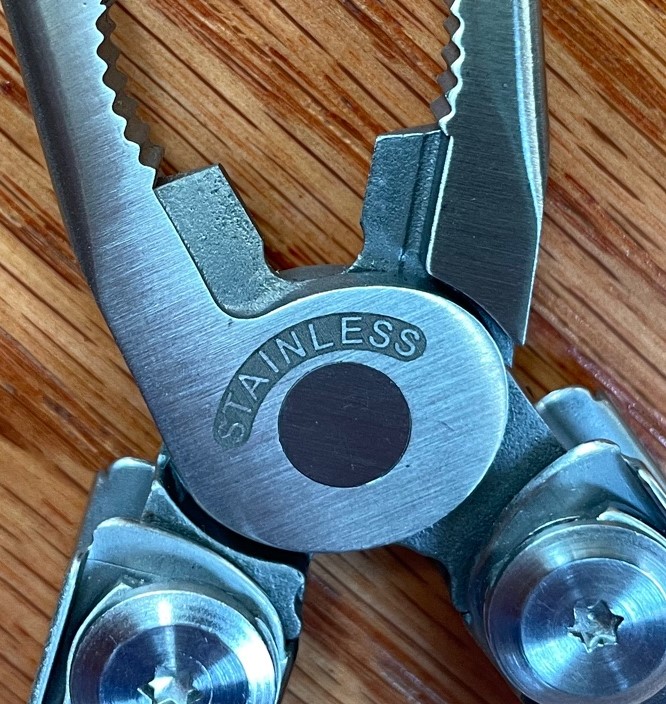 What I like
Good cost "for the price"
All tools lock
Full size ¼ inch driver accepts commonly available standard bits
What i would change
Add a layout for a belt clip
Add retention to the thumb bit holder
Modify some of the tools to make them less bulky to deploy with short nails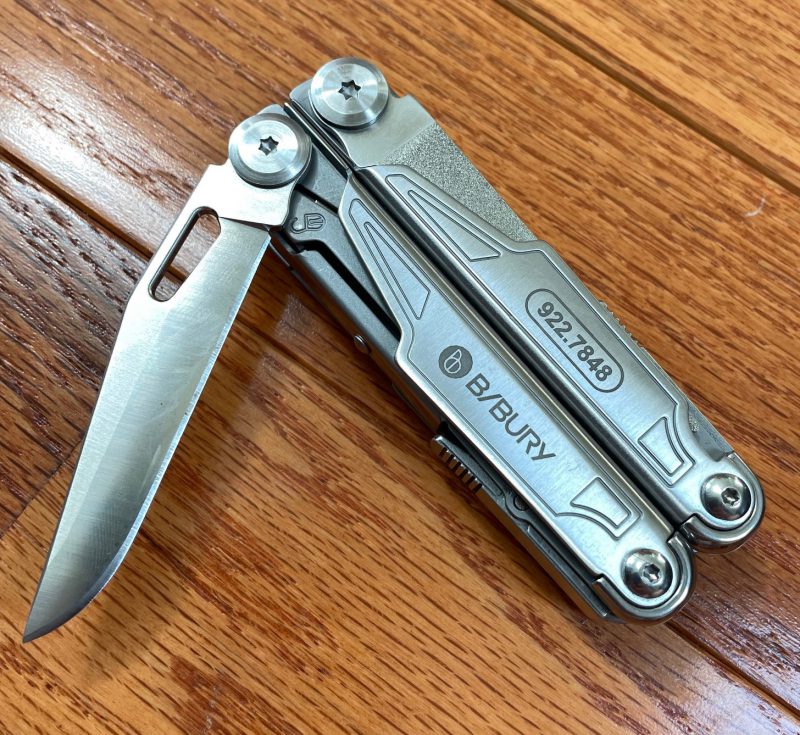 Final thoughts
Overall, I found the Bibury 19-in-One Multifunction Tool capable, durable, and worthy of any toolbox or pocket. At $ 60, it offers a big boost for those looking for features similar to a Leatherman Wave or Charge. While it won't replace my beloved TTI Charge, the Bibury with its full-size ¼-inch bit driver is sure to become an EDC fan favorite!
Price: $ 59.99
Or buy: Amazon (40% discount with CODE: 5URBE73U expires 12/30/2021)
Source: The sample for this review was provided by Bibury.
Support The Gadgeteer: The Gadgeteer is supported by readers like you! If you buy something through the links on our site, we may earn a small affiliate commission. Thank you! Learn more.